"I've had six years of college and this
is the best class I've ever taken."
-- Chuck Thrash, architect
NEXT 8-week NEON WORKSHOP BEGINS
Tuesday, April 4, 2023 from 6:30 -- 9:30 pm
DISCOVER THE MAGIC OF NEON!
Learn to create your own neon sculpture or neon sign in only 8 weeks in
this step-by-step, hands-on, results-oriented workshop taught by leading artist/ designer and founding director of the Museum of Neon Art Lili Lakich in her 5,000 sq. ft. studio in the Arts District of downtown Los Angeles.
HISTORY OF NEON
Discover how the first neon sign revolutionized advertising in 1910 and developed throughout the 20th century. See the range of work of artists
who began using neon in the 1960s.
DESIGN
Learn how to translate your ideas into a neon design.
COLOR
Create over 250 colors with light using the noble gases—neon, argon, helium, krypton and xenon—
in clear or colored glass with phosphors.
PATTERNS
Make full-size tube patterns using special symbols to communicate your designs to a glassbender.
FABRICATION
Fabricate the structure and install hardware, neon tubes, transformers, and animators using the latest innovations in neon technologies.
TRANSFORMERS
Choose the right transformer from the wide array of available products.
WIRING
Learn the safe and correct methods of high voltage and primary wiring of neon tubes.
AESTHETICS & SAFETY
Examine how good design and safety complement each other at every
stage of construction.
EXHIBITION & PARTY
Invite your family and friends to a party and exhibition of finished neon projects after the final class session.
8 Tuesday evenings from 6:30 to 9:30 pm
Course Fee: $695. plus a $25 materials fee
not including materials, material costs average $150-$300
$100 non-refundable deposit to reserve a place in class limited
to 12 students.
No prior experience required. Gift certificates available.
Private lessons arranged by appointment.
Call the studio for more info or to reserve your place.
(213) 620-8641
ADVANCED CLASS FOR STUDENTS WHO HAVE TAKEN THE
8-WEEK NEON WORKSHOP
4 Saturdays from 10:30 to 1:30
starts April 8th
See Felicia Day learn how to make a neon sign.
copy this youtube link:
https://www.youtube.com/watch?v=6TdT14Fhn78
TAKE A VIRTUAL TOUR OF LILI LAKICH STUDIO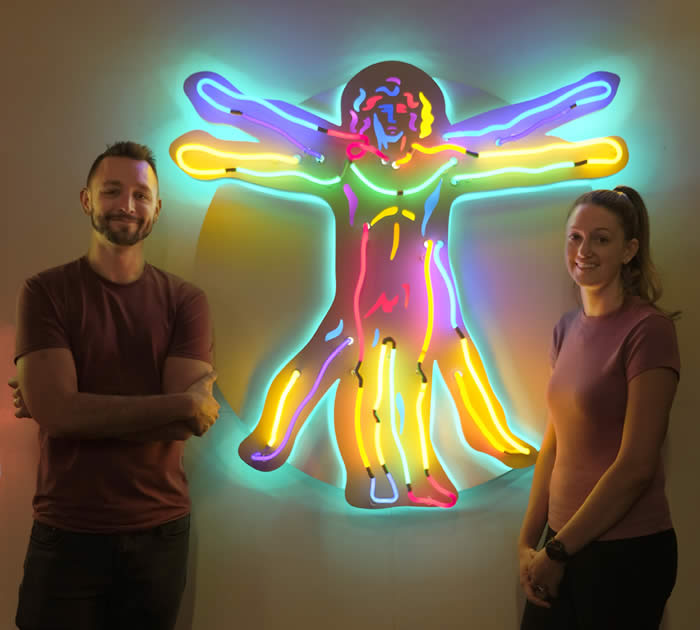 Dan & Emily Edge Biersdorf completed this work in the FALL 2022 NEON WORKSHOP.